Seena Patel DMD MPH
Dr. Seena Patel currently serves as the Associate Director of Oral Medicine and Assistant Professor at the Arizona School of Dentistry & Oral Health at A.T. Still University. She is also an associate at Southwest Orofacial Group in Phoenix, AZ, limiting her practice to orofacial pain, oral medicine, and dental sleep medicine since 2012. She is a Diplomate of the American Board of Orofacial Pain and the American Board of Oral Medicine. Dr. Patel simultaneously earned her dental and master's in public health degrees from the Arizona School of Dentistry & Oral Health in 2010, and completed her residency in both orofacial pain and oral medicine at the Herman Ostrow School of Dentistry at the University of Southern California in 2012.
Her educational interests are in myofascial pain, neuropathic pain, oral mucosal diseases, management of obstructive sleep apnea with mandibular advancement devices, and the dental management of medically complex patients. She has authored several publications that encompass these topics, and her current research endeavors are focused on the management of myofascial pain affecting the orofacial structures, the dental management of patients taking direct oral anticoagulants, and the dental management of patients undergoing head and neck cancer therapy. She also serves as a peer-reviewer of scientific articles for dental journals. Furthermore, she has lectured at several local and national dental meetings on various topics on orofacial pain and oral medicine-related conditions.
Dr. Patel maintains her membership in the American Academy of Orofacial Pain, and American Academy of Oral Medicine, Central Arizona Dental Society, Arizona Dental Association, American Dental Association and American Dental Education Association.
Basilios C. Costaras DDS

Dr. Costaras originally joined our practice in 2016, and returned in July 2019 after completing his two-year residency in Orofacial Pain and Dental Sleep Medicine at UCLA. Full bio coming soon!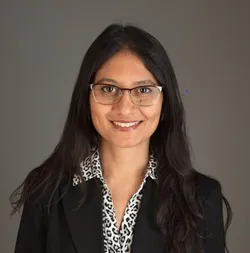 Dharti N. Patel DMD ND
Dr. Dharti Patel received her dental degree in 2002 from the University of Pennsylvania School of Dental Medicine. She completed her Fellowship in Oral Medicine at the University of Medicine and Dentistry of New Jersey in 2004, serving as Chief Resident of the Dental Division at the University Hospital, joining the faculty at the New Jersey Dental School as a Clinical Assistant Professor in the Department of Diagnostic Sciences and Division of Oral Medicine.
She has achieved her board certification in Oral Medicine as well as in Orofacial Pain. She is a Fellow of Dental Surgery of the Royal College of Surgeons of Edinburgh in Oral Medicine and a Fellow of the International Congress of Oral Implantologists. She is a former Clinical Assistant Professor at the NYU College of Dentistry in the Department of Oral & Maxillofacial Pathology, Radiology and Medicine, where she lead the clinical program in orofacial pain and medicine and attended to the special needs clinic. She also lectured in oral medicine, systemic pathology, radiology and medically complex patients to post-graduate and undergraduate dental students.
Dr. Patel's academic interest keeps her active belonging to twelve different dental academies and organizations. For over 15 years, she has extended her scope of practice in all aspects of general/cosmetic dentistry, oral surgery, endodontics, prosthetic and implant dentistry, pediatric dentistry, oral medicine and orofacial pain. She has trained in energy medicine such as holistic Reiki healing practices, Applied Kinesiology, Craniosacral Therapy. She is currently completing her Doctorate in Naturopathic Medicine to integrate complementary alternative medicines into her practice.
Jeffrey C. Wight DDS

Dr. Wight joined our practice in August 2020, after completing his two-year residency in Orofacial Pain and Dental Sleep Medicine at UCLA. Full bio coming soon!